Accessories
View Our Accessories
X-Shut Accessories
Explore the diverse range of what the X-Shut lineup has to offer and let it inspire you to come up with creative solutions. Due to the wide range of configurations and available parts, there is a strong chance we have the items you need for your application. We are here to help and come up with suggested solutions to meet your needs. Here is a sample of other available X-Shut items and applications.
HELMET INTEGRATION KIT
The Helmet Integration Kit allows you to mount the X-Shut BASE to skydiving, tactical, and other types of helmets. The recessed method of mounting the BASE allows the top to be completely flush with the surface. It can also be mounted to other surfaces where having the BASE flush to the surface is desired.
HAND MOUNT
The Hand Mount secures the X-Shut BASE to the back of your hand which is a perfect solution for skydiving hand-cam footage. The cut-away feature allows the jumper to release the mount in the event of an emergency. The hand and wrist straps are adjustable to comfortably fit different hand sizes and can be adjusted to fit either hand. Flashlights and other items for various applications can also be attached.
CROSS W/ GOPRO ATTACHMENT
Allows you to attach a GoPro to any surface with an X-Shut BASE.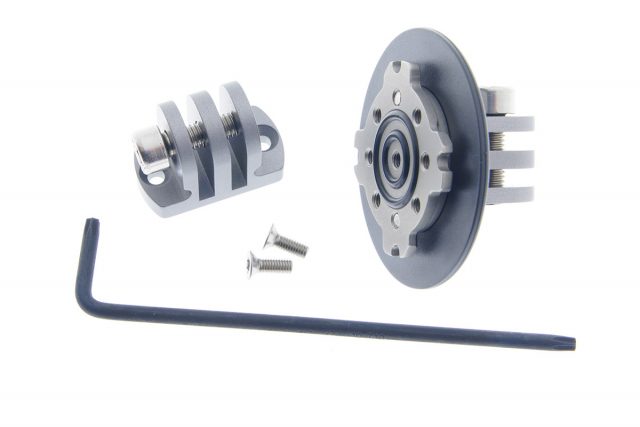 Leg Plate
Our leg plate has been designed for military use and meets the highest requirements. This plate is attached to the thigh with straps and allows for a wide range of applications. Private pilots also enjoy using it as a surface to mount their tablet.
Round Profiles
We have hardware that allows the BASE and CROSS to attach to round profiles. This allows the BASE to mount to a metal railing for example. The CROSS can be mounted to round objects such as a flashlight or oxygen bottle.
Ipad / Tablets
The X-Shut system allows the attachment of various tablets. We also recommend the Andres Industries Tablet Case, which is not only robust and waterproof, but also provides a cut-out for the X-Shut CROSS. We offer a wide range of device adapters to meet your needs.
Carrier Plates
These are commonly used with the X-SHUT SPIDER and SNAKE hardware. Aside from tablets, one of our most common applications is for Military HAHO navigation systems. The availability of adapters allows full customization of attaching a wide range of GPS's, a compass, altimeter, and more.
Molle Adapters
The X-Shut BASE can be attached to MOLLE equipment via the single, double, or triple MOLLE Adapter plates.
Device Adapters
The X-Shut CROSS is so flat that it can easily be fixed at the smallest points or directly to devices with five M3 screws or one central screw. If direct attachment is not possible, we have a variety of standard device adapters, but can also create custom solutions.
Interested in purchasing an X-SHUT Accessory?